When Should My Pet Have Blood Work Done?
Blood and urine tests are an essential part of diagnosing what is ailing your pet, just as they are in human medicine. Blood tests can tell the veterinarian a myriad of things, from whether your pet is dehydrated to whether he or she has anemia to whether your cat or dog is suffering from cancer.
Lab work is recommended annually for all pets (bi-annually for our senior patients) to ensure they are doing well metabolically and that nothing is going unnoticed beneath the surface. Most lab work is sent to the laboratory same day. We typically receive the reports within the next couple of days. The doctor will contact you to go over lab results as soon as we receive the report.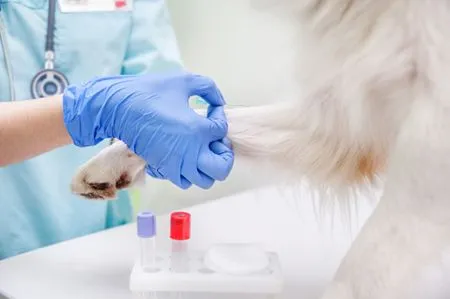 In-House Diagnostics
We also smaller in-house panels for same day results. Depending on the values the doctor needs to proceed, this may be a good option for your pet.
Having a sick pet can be a scary thing. After all, they are part of the family. Animal Clinic of Tustin Ranch-Irvine, Inc. wants to ease some of your anxiety and get your pet on the road to wellness as quickly as possible.
Call us today at

714-730-1442

to learn more about our in-house testing lab or to make an appointment for your pet.